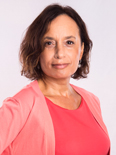 Your attorney at law Anja Kleinmoedig
Driven and result-oriented. That is Anja Kleinmoedig in a nutshell; attorney at law and the founder of Kleinmoedig Attorney at Law.
A dynamic boutique law firm in Curaçao where every client gets our undivided attention.
Attorney at law
Companies and private individuals can retain Kleinmoedig Attorney at Law for a wide range of legal services in the area of corporate law, business law, labor law, real estate, contract law and when a wrongful act has been committed and, in addition thereto, also legal representation and dispute resolution, either with or without litigation.


Customized services
Legal services are comprehensive. Each case is unique, including yours. I would be pleased to help you find a customized solution.
My firm and our services
I can assist you and/or your company as an attorney at law and as a mediator. As an attorney I represent the interests of a specific party. As a mediator I assist parties who are in conflict.
Mediator
As a (commercial) mediator I counsel parties on the basis of their own potential towards reaching a customized resolution to a conflict.
Committed
It goes without saying that my firm will represent interests which have been entrusted to me professionally and accurately. My team and I are committed to your interests.